("Sconset Cliffwalk, Nantucket" by Massachusetts Office of Travel & Tourism is licensed under CC BY-ND by 2.0)
Learn More About Sconset
Grab your bike and go! Head to the far eastern end of the island to Siasconset, or "Sconset" as most local folks call it. This beachside village is about an 8-mile ride from Town on one of the first bike paths created on the island.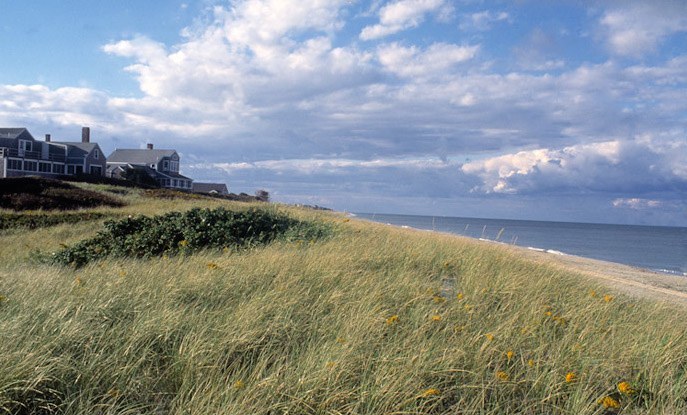 There are many things to see and do once you get there. Grab a bite to eat at one of the island's best sandwich shops or buy some items at the market and take a picnic to the beach. And of course, don't miss the rose-covered cottages and the little-known Sconset Bluff Walk.  This is a perfect little village for a Nantucket summer home or rental.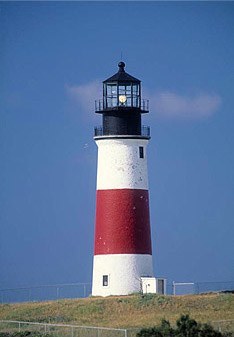 Sankaty Lighthouse
Built in 1850, the Sankaty Lighthouse was moved several times due to erosion. It became automated in 1965 and remains in operation to this day. In 1987 this treasured lighthouse was listed on the National Register of Historic Places. It was recently moved to its present home on the grounds of the Sankaty Golf Course.
Golf Courses
Sankaty Head Golf Club (Private)
Nantucket Golf Club (Private)
Siasconset Golf Course (Public) - Built in 1899 the clubhouse is currently under renovations open to the public.
Tennis
Sconset Casino (Private) - Beyond tennis, the Casino also hosts community events as well as weekly movies.
Restaurants & Markets
Summer House Restaurant and Cottages
Chapel
AREA FEATURES
Activities
Beach
Biking
Dining